Rimac Automobil is a Crotian car manufacturer who specialise in the production of electric sports cars, as well as drivetrains, batteries and systems. Their base of operations is located in Sveta Nedlja, Croatia, and when compared to other world-renowned sports-car manufacturers, they're relatively new. The company itself was founded in 2009 by Mate Rimac, and their first ever model – the Concept One – gained recognition for being the fastest production electric vehicle on the planet. They were also in the spotlight for a more unfortunate reason, when Richard Hammond of 'The Grand Tour' was hospitalised in June 2017, after losing control of the Concept One during a hill climb event.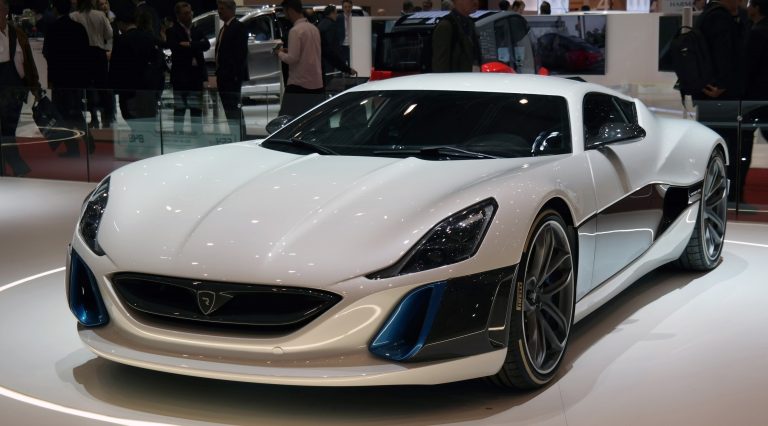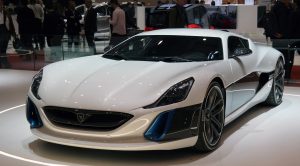 - See Above: The Rimac Concept One
Since Hammond's crash, Rimac have strived to rebuild their reputation and push the boundaries of the electric car. Ludicrous speeds and mind-numbing levels of G-force all blend into one insane mixture alongside efficiency, rigidity and safety to form their newest concoction; the Rimac Nevera. It is dubbed 'hypercar 2.0,' and for good reason. The Nevera is capable of reaching astonishing speeds; it's swift and sleek and powerful beyond all rational comprehension, and is truly a car like no other.
As a company, Rimac's ethos revolves around designing, engineering and building the most advanced automobiles and accompanying automobile technology possible. In their words, their work ranges between developing and manufacturing "era-defining hypercars to inventing and building ground-breaking new technologies." Therefore, it's quite transparent how innovative Rimac truly are, and how high they set their goals and aspirations. Rimac focus on electric vehicles because electricity is one of the earliest, most effective, most environmentally-friendly forms of power. To quote Rimac directly, "electric is genesis." This viewpoint reflects the almost reverential perspective on electricity, and this passion is demonstrated in the quality of their work. Electricity allows them to engineer and subsequently produce the most remarkable levels of performance from their hypercars.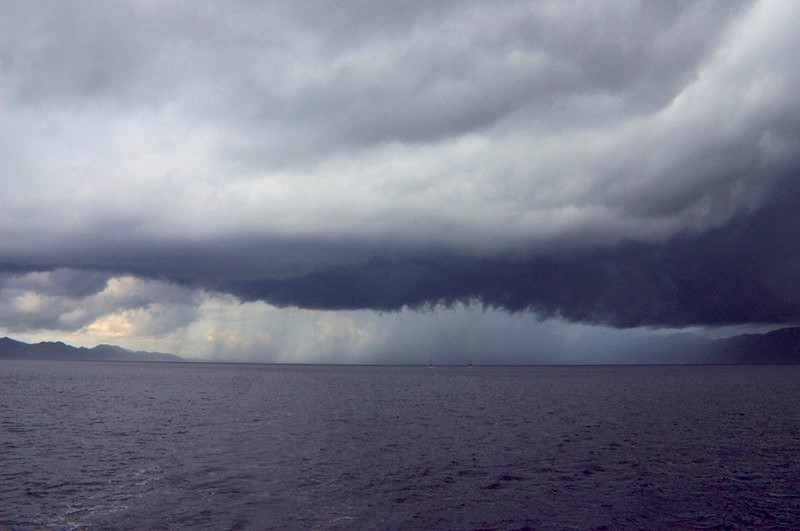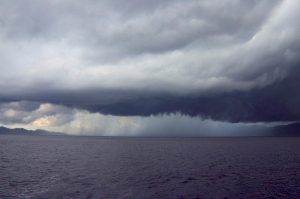 - See Above: Storm Nevera
The Nevera is named so after a Mediterranean storm, which often races across the open seas off of the Croatian Coast. Storm Nevera is supremely powerful, and is fuelled by thunder and lightning. The car is no different, as it is a machine like no other. Rimac's Nevera has been designed, engineered and handcrafted from the ground up in Croatia, and in Rimac's own words, the Nevera was "born to outperform." It possesses exceptional speed and severity, and the levels of performance are incomparable. With a power output of an astonishing 1,914 horsepower, the Nevera is more than able to surpass the 250 mile an hour threshold, and its top speed reaches 258 mph. It can jump from a standing zero to sixty miles an hour in as little as 1.85 seconds, and this is thanks to the innovative technology imbued throughout this staggering electric car.
For starters, the Nevera is fitted with four individual motors, each designated to their own wheel. They are independently driven by a singular electric motor, and this channels the 2,360 Newton metres worth of torque appropriately, providing the Nevera with unprecedented dexterity and control.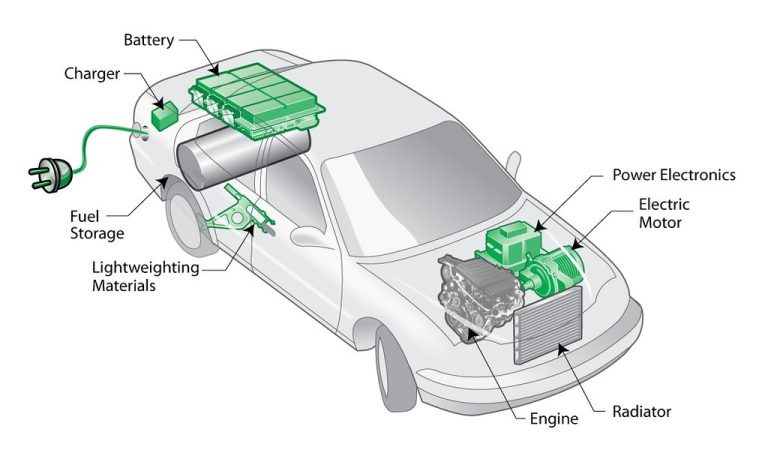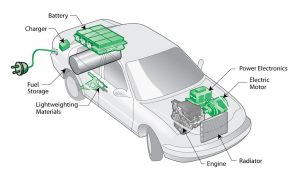 - See Above: The basic ins and outs of an electric car
If we take a look at the very simplistic diagram above, we can clearly see that a standard electric vehicle will usually have one primary motor. This will distribute power across the axles and then to all of the wheels, essentially acting as the solitary engine for the entire car. Some electric cars may even have a front motor and a rear motor, with one assigned to the front axle and one to the rear; thus, balancing out the energy distribution as well as the power-to-weight ratio. Rimac have torn out this page in their manual, and provided the Nevera with four much larger, much more powerful motors, and subsequently attributed each wheel with a motor. Therefore, as previously mentioned, the Nevera is gifted with unheard of agility and composure.
Additionally, the Nevera is equipped with a new, intuitive system designed by Rimac called R-AWTV, meaning 'Rimac's All Wheel Torque Vectoring System. This provides the driver with sufficient power when and where they need it. Through the use of this system, the car is able to instantaneously calculate the amount of torque supplied to each wheel over 100 times a second, and this achieves the desired driving dynamic. The Nevera, therefore, is stable, safe, efficient and agile as ever, yet does so whilst retaining essential levels of power.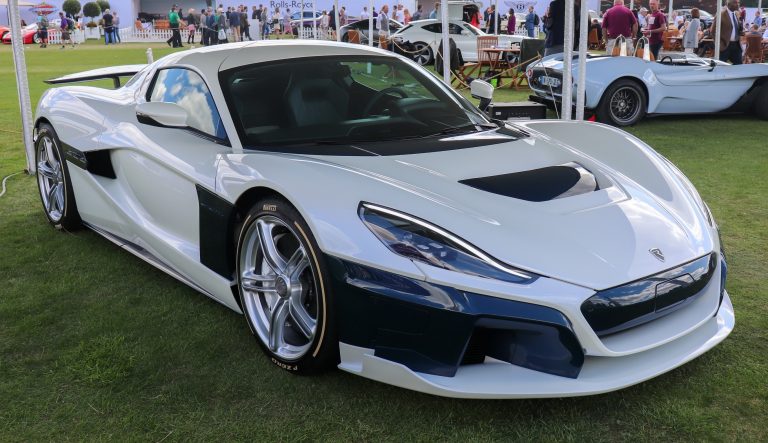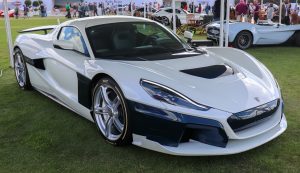 - See Above: The Rimac Nevera
Lastly, the body of the Nevera is extremely solid and strong, yet retains an incredibly light weight so as not to relinquish speed and agility. Inside is a monocoque core, providing internal strength throughout every axle, every cog, and every battery compartment. It is composed of carbon fibre, and seamlessly connects to a bonded carbon roof. Moreover, beneath the skin of the car lies an integrated structural battery pack, as well as a carbon subframe positioned towards the rear of the car. All of these features ensure the Rimac Nevera is supremely rigid and safe, whilst keeping all of the necessary attributes to make it as fast and sleek as possible.
With every piece manufactured in-house, the Nevera as a whole is Rimac's love-letter to their enthusiasts. It encapsulates everything Rimac stands for; ludicrous speeds, boundary-defying physics, pure innovation and imagination, and unwavering driver pleasure. Aptly named after a meteorological force of nature, the Rimac Nevera is a machine to be reckoned with, and will likely hold a key position in the hypercar market for the next few years.